ADULT SABBATH SCHOOL BIBLE STUDY GUIDE STANDARD EDITION
The Book of Luke
by: John M. Fowler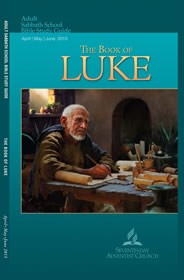 We know that verse. It comes from one of the most well-known and beloved stories in all literature, sacred or mundane. Astonishingly enough, we would never have heard it but for a simple missionary doctor who embedded that precious gem in a letter he wrote to his learned friend Theophilus.
Good idea. Let's try it together, as a world church, this quarter.
The Coming of Jesus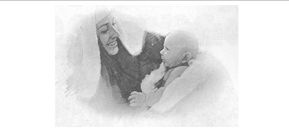 Sabbath Afternoon
Study this week's lesson to prepare for Sabbath, April 4.
An Orderly Account
(Luke 1:1-3, Acts 1:1-3)
---
---
Luke, an inspired author of Scripture, used other material in his writings. Very interesting. Obviously that use of other sources doesn't negate the inspiration or authority of what he wrote. What lessons should that have for us as Seventh-day Adventists regarding the question of how inspiration, either canonical or noncanonical, works on inspired writers?
Call His Name John
For nearly four hundred years after Malachi divine silence marked the history of Israel. With the birth announcements of John the Baptist and Jesus the divine silence was about to be broken.
---
---
Call His Name Jesus
---
---
Some secular cultures have been browbeaten into believing that everything, ultimately, has a naturalistic and scientific explanation. Why is this such a narrow, even superficial, view of the grandeur and greatness of reality?
The Manger of Bethlehem
Luke begins the story of the Bethlehem manger with a note of history. Joseph and Mary left their home in Nazareth to travel to their ancestral town of Bethlehem as a result of a census decree of Caesar Augustus, the emperor of Rome, when Quirinius was governor of Syria. Such historical details must lead Bible students to appreciate Luke's submission to the Holy Spirit, so that he would record the details of the Incarnation within the framework of history.
---
---
The Witnesses to the Savior
---
---
Simeon's prophecy also predicted two significant features of Jesus' ministry.
Salvation is a gift in that we can do nothing to earn it. Yet, it can still be very costly to those who claim it for themselves. What has following Christ cost you, and why is that cost, whatever it may be, cheap enough?
Further Study:
Luke, the writer of the Gospel that bears his name, was a medical missionary. In the Scriptures he is called the beloved physician. Colossians 4:14. The apostle Paul heard of his skill as a physician, and sought him out as one to whom the Lord had entrusted a special work. He secured his co-operation, and for some time Luke accompanied him in his travels from place to place. After a time, Paul left Luke at Philippi, in Macedonia. Here he continued to labor for several years, both as a physician and as a teacher of the gospel. In his work as a physician he ministered to the sick, and then prayed for the healing power of God to rest upon the afflicted ones. Thus the way was opened for the gospel message. Luke's success as a physician gained for him many opportunities for preaching Christ among the heathen. It is the divine plan that we shall work as the disciples worked.
-Ellen G. White,
The Ministry of Healing

, pp. 140-141
.
Discussion Questions:
---