Jesus, the Master Teacher
Sabbath Afternoon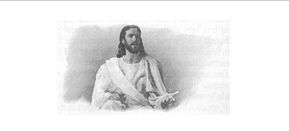 "As they ceased to recognize the Divine, they ceased to regard the human. Truth, honor, integrity, confidence, compassion, were departing from the earth. Relentless greed and absorbing ambition gave birth to universal distrust. The idea of duty, of the obligation of strength to weakness, of human dignity and human rights, was cast aside as a dream or a fable. The common people were regarded as beasts of burden or as the tools and the steppingstones for ambition. Wealth and power, ease and self-indulgence, were sought as the highest good. Physical degeneracy, mental stupor, spiritual death, characterized the age.
-Ellen G. White,
Education

, pp. 74,75
.
Against such a background we can better understand why Jesus taught the things that He did.
Study this week's lesson to prepare for Sabbath, May 30.
The Authority of Jesus
As a physician and scholar, Luke was acquainted with the role of authority. He was familiar with the authority of philosophy in Greek scholarship and education. He knew the authority of the Roman law in civil matters and government function. As Paul's traveling companion he knew the ecclesiastic authority that the apostle commanded with the churches he founded. Thus, Luke understood that authority is at the core of a person's position, an institution's role, a state's function, and a teacher's relationship to his or her followers. Having rubbed shoulders with all kinds of authority at all levels of power, Luke shared with his readers that there was something matchless about Jesus and His authority. Born in a carpenter's home, brought up for 30 years in the little Galilean town of Nazareth, known for nothing great by worldly standards, Jesus confronted everyone-Roman rulers, Jewish scholars, rabbis, ordinary people, secular and religious powers-with His teaching and ministry. His fellow townspeople
marveled at the gracious words which proceeded out of His mouth
(Luke 4:22, NKJV)
. He once brought hope to a widow in Nain by raising her dead son to life
(Luke 7:11-17)
. The entire town went into a shiver of fear, and exclaimed:
God has visited His people.
(vs. 16, NKJV). The authority of Jesus over life and death electrified not just Nain, but
Judea and all the surrounding region
(vss. 16-17, NKJV).
---
---
Luke took time to record, not only for his friend Theophilus but also for generations to come, that Jesus, through His ministry, had established the uniqueness of His authority. As God in the flesh, He indeed had authority as no one else ever did.
Christ's Greatest Sermon
A New Family
What do the following texts teach about the walls that Christ tore down in regard to the distinctions that so often divide humans (and often with bad results too)?
---
---
---
---
---
---
---
---
The mission and the ministry of Jesus, His forgiving heart and embracing grace, did not exclude anyone but included all who would accept His call. His everlasting love brought Him in touch with the entire spectrum of society.
What are ways that, as a church, we can better follow this crucial principle?
Love Defined: The Parable of the Good Samaritan: Part 1
---
---
What outward evidence reveals that you have truly been saved by grace? That is, what is it about your life that shows you are justified by faith?
Love Defined: The Parable of the Good Samaritan: Part 2
---
---
---
---
---
---
Jesus described the Samaritan's ministry in great detail: he took pity, he went to him, bandaged his wounds, poured oil and wine, carried him to an inn, paid an advance for his stay, and promised to care for any balance on his way back. All these parts of the Samaritan's ministry together define the limitlessness of true love. The fact, too, that he did all these to a man who was, possibly, a Jew, reveals that true love knows no frontier.
The priest and the Levite asked themselves the question: What would happen to us if we stopped and helped this man? The Samaritan asked: What would happen to this man if I didn't help him? What is the difference between the two?
Discussion Questions:
---