Sabbath School Lesson Begins
Biblical Missionaries
The Unlikely Missionary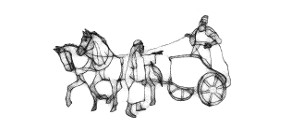 Sabbath Afternoon
The books of Kings, covering the history of the kingdoms of Israel from about 970 to 560 B.C., record exciting and dramatic events and far-reaching political upheavals touching God's people. Woven in these accounts are the stories of Elijah and Elisha, daring prophets of God whose adventures have gripped the imaginations of children and adults in every age.
Also interesting are the similarities between the ministry of Elisha and the ministry of Jesus. In the ministries of both, dead persons were raised, lepers cleansed, and hungry people fed from small amounts of food.
This week's lesson deals with one of these miracles: the healing of Naaman, a wealthy, powerful, and very proud idolater who, in his great need, came to experience the power of the living God and first did so through the witness of a very unlikely missionary.
Study this week's lesson to prepare for Sabbath, July 18.
He Had It All . . . But
---
Personal life disruptions, tragedies, and transitions can make people more open to spiritual truth and set them on a search for God. Physical, psychological, political, or other disasters can open people up to the reality of the divine. Personal loss, national catastrophes, and wars are major motivators that cause people to seek a power greater than themselves. The church has long been aware that increased soul-winning results tend to come in areas in which people are struck by personal or societal suffering.
On one level Naaman appeared to have it all; on another he was a broken man without much hope. In what ways are we all like that, having good things and bad things in our life? How can we learn to allow both to keep us connected to the Lord?
An Unlikely Witness
---
---
Elisha, the Prophet
The ministry of the prophet Elisha in the ninth century B.C. comes to us in a series of 18 episodes, extending over more than fifty years. His ministry was conducted mostly as the head of the school of the prophets and was largely public. It included displays of signs and wonders at both the personal as well as the national level. Elisha was a prophet whose counsel and help were sought by both kings and commoners.
---
No doubt the pride of this important man was hurt. Perhaps, though, that was the point.
The Healing of Naaman
---
Had the prophet Elisha personally met his prominent guest Naaman and employed exorcising gestures accompanied by magic formulas and other rituals so common in pagan religions, Naaman might not have hesitated. But two aspects of his reception insulted him. Not only did the prophet not personally come out of his house to meet Naaman, but he also directed him to the Jordan River as the place to get his leprosy cured.
From the viewpoint of protocol, Naaman was right. Elisha should have left his house to greet him. And the rivers in Damascus were undoubtedly better, since their water was clearer than the muddy Jordan's. However, through Elisha, God directed Naaman to the Jordan, a river in Israel. The entire cure process was designed to demonstrate, first, that there was a prophet of the true God in Israel and, second, that God rewarded believing compliance.
The initial requirements for Naaman's healing were belief and compliance. As soon as he conquered his pride and complied with God's expressed will by bathing seven times in the muddy Jordan, he was cured.
A New Believer
---
It would have been easy for Naaman to return directly from Jordan to Damascus after his healing. However, as a gesture of thankfulness, he and his attendants returned to the prophet's place. This time they met Elisha in person. The confession that the God of Israel is sovereign in the world is the main theme of the Bible. These words coming from a pagan constitute one of the high points in Old Testament revelation. Naaman's conversion made clear that his new experience had to be tied to the God of Israel. The prophet was Israelite, the river was the most important in Israel, and the number seven was a clear connection to the God of creation.
If others were to look at your life, what would they see in it that reveals your love for God because of what He has done for you in Christ?
Discussion Questions:
---
---
All Rights Reserved. No part of the Adult Sabbath School Bible Study Guide may be edited, altered, modified, adapted, translated, reproduced, or published by any person or entity without prior written authorization from the General Conference of Seventh-day Adventists.