Women in the Ministry of Jesus
Sabbath Afternoon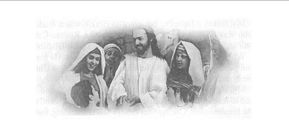 In the time of Jesus, as in some cultures today, women were deemed of little worth. Some Jewish men in that time thanked God that they were not created a slave, a Gentile, or a woman. Greek and Roman society sometimes treated women even worse. Roman culture developed its permissiveness to an almost unlimited licentiousness. A man often had a wife only in order to produce legitimate children who would inherit his property, and he had concubines for his own sinful pleasures.
Study this week's lesson to prepare for Sabbath, May 9.
Women Who Welcomed Jesus' Advent
Only Luke records the reaction of these women to the wonder of cosmic history: that the Son of God took human flesh in order to complete the redemptive mission of the Father and fulfill the Messianic hopes of His people. Though these women didn't fully understand what was happening, their words and reactions to these astonishing events revealed their faith and wonder at the works of God.
---
---
---
---
Expectant hope finds its radical fulfillment in Jesus. An old widow recognizes the miracle, and from then on she made it her compulsive mission to proclaim the Savior to all those who came to the temple. She became the first woman evangelist of the gospel.
Try to imagine the wonder and astonishment of these women at the events unfolding around them. What can we do to help keep alive in our own hearts the wonder and astonishment of the great truths that we have been called to proclaim?
Women and Jesus' Healing Ministry
The village of Nain not only witnessed a great miracle but also received a marvelous message: in Jesus there is no difference between the emotional pangs of men and those of women. And His presence confronts and confounds the power of death.
In these stories, it was the power of Jesus' words that brought a dead son back to his mother and a dead daughter back to her father. Think about how incredible these acts must have been to those who saw it, especially to the parents. What do these accounts tell us about the power of God? What do they tell us about just how limited we are in understanding that power (after all, science at present doesn't have a clue about how this could happen). Most important, though, what must we do in order to learn to trust in this power, and the goodness of the God who wields it, regardless of our present circumstances?
Women of Gratitude and Faith
---
---
It's so easy to look at people and judge them, isn't it? Even if we often don't verbalize it, in our hearts we judge them, which is still so wrong. How can we learn to stop judging others, even in our thoughts, when who knows what wed do were we in their situations?
Some Women Who Followed Jesus
---
---
---
---
When we understand that Jesus died for every human being, we can better grasp the true equality of every person before God. How well do we reflect this truth in our attitude toward others? That is, how can you root out, if necessary, any attitude in which you might tend to look down upon others as somehow less worthy than yourself?
Persistent in Prayer, Sacrificial in Giving
Luke shows how Jesus turned to two widows in order to teach important spiritual truths.
Show was the motive of the first group; sacrifice and the glory of God was the motive of the widow. To acknowledge God's ownership of all that she had and to serve Him with all she had was the force that propelled the widow to give her two mites. What counts before the all-seeing eyes of the Creator is not what we give but why we give; not how much we give but what is the measure of our sacrifice.
How much do you sacrifice of yourself for the good of others and for the cause of God?
Discussion Questions:
---